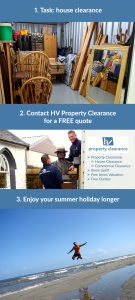 We are aware that some of you prefer to spend summer by enjoying the weather as long as sunny and warm days are with us. Some of you just have to deal with either house or office (or any other type of property) clearance though.
We are here to help you do all the clearances as quickly and hustle free as possible so you will have much more time to enjoy the lovely days ahead.
What you need to do is contact us for a free quote – we are competitive and we adjust to your needs.
We set up date and time that suits you best.
We do our task with all in our mind: we will care about quality packaging, sentimental stuff, collectible stuff etc.
We can also arrange free items valuations and donate some of your items to the charity of your choice and recycle the reaming items. We do care about environment.
Here we are to help you significantly reduce time of this task, since we have a lot of experience and we know exactly what to do to make it quickly and stress free.
Once all is done, you will be surprised how easy the clearances went and how much time you saved to enjoy your precious summer time.