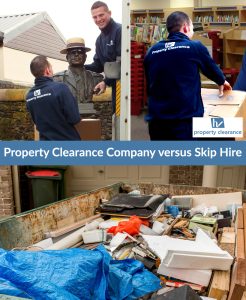 Property Clearance Company versus Skip Hire
So many men, so many opinions. There are people who prefer one option over the other which unusually depends on what works best for them.
So, it all depends on a few factors:
What is your budget for the job to be done?
How much time do you have for this job? – time frame.
Are you able to lift heavy items?
What about huge box blocking the street – respect your neighbours' opinion.
Advantages of Property Clearance Company
By hiring a professional property clearance company as

HV Property Clearance

you are assured it will be all stress and hassle free.
We are able to clear your property from top to bottom, from attic to cellar and outbuildings.
We do all the heavy lifting for you – so you don't need to worry about furniture or white goods.
We either recycle the items or donate them to the charities so they can be reused – we do care about sustainability and environment. In consequence you don't need to worry about additional disposal cost.
If you are concerned about some items' value we also offer free valuation services, since we cooperate closely with Auction Houses. Moreover we use quality packaging for those items, so you'll have peace of mind.
You do not need to be bothered about injuries since

HV Property Clearance

staff is also trained regarding the potential hazards.
Disadvantages of skip hire
In most cases skip hire ends up with a large box blocking either the road or path for a week or more. These may cause dispute with your neighbours.
You may pay extra cost for disposal. Moreover recycling of the items or donations for reuse is not quite possible.
You spend more time to care about all the works and lifting if you do it by yourself. Or you may end up with hiring more men to do the job. So, as a consequence you overpaid thinking you saved some money.
Therefore, take all above into consideration before you make the final decision.
HV Property Clearance is always happy to help or answer your questions if you have any doubts, and give you free quote.