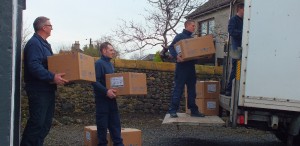 There are a number of different reasons why people look for a house clearance, some people are moving home and doing some clean-up work, some people are clearing rubbish from their homes and others unfortunately have had a relative pass away and want to get their home cleared.
It can be hard do to the house clearance yourself, especially if you are not used to moving belongings when moving a house for private householders or for commercial property management. That's where we come in.
We offer a friendly service in Paisley and throughout the West of Scotland for both domestic and commercial customers.
We work 7 days a week and can clear any items, from carpets and curtains right through to washing machines and cookers.
Each of us here at HV Property Clearance are professional, experienced and friendly. The great thing about us is that we never use sub-contractors of franchise companies.
We are used to dealing with loss and bereavement and recognise that there are a lot of possessions that can hold sentimental and emotional memories. With this in mind, every item in a property is treated with respect.
When we are providing a full house clearance in Paisley we can include:
loft
cellar
shed and
garages.
As a team, we will arrive at the time that was agreed – never letting our customers down.
We offer a tailored service which means that the service itself will be tailored to suit your individual requirements. Our team can clear all sizes and types of properties including:
high-rise flats
semi-detached homes
bungalows and
warehouses.
If access is restricted or parking is unavailable then we are able to still clear the house regardless. We also have a deep clean service available where we actually clean the property for you – this is particularly useful if you are trying to improve its rental or selling appeal.
If you are looking for a house clearance for a property in Paisley then get in touch with us today. Simply give us a call on 0141 255 1901.