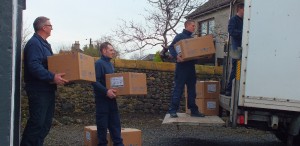 Do you require the services of a professional company to carry out a house clearance for you in Kilmacolm? If so then you should contact us and find out what we can do to help you.
As a company we have been completing house clearances for people in Kilmacolm and the surrounding areas for many years now so have the experience behind us of doing every job that we undertake efficiently, to the best of our ability.
Different people ask us to do different things for them, there a no two jobs the same. It's for this reason that you should give us a call so that we can give you an accurate quote based on the job that you require us to do for you.
Some people in Kilmacolm look for a full house clearance whilst others look for a part clearance but whatever it is that you need we can get it done for you. There is no job too big or too small.
The house clearances that we complete can include lofts, cellars, garages etc too, all you have to do is let us know beforehand so that we know what we are working with. We have worked in many properties over the years including flats, bungalows and semi detached houses. We can offer commercial clearances also.
Our staff are all friendly and helpful and will take the utmost care with the possessions that they handle as some of these hold sentimental and emotional memories for people. We aim to get the job done and be out of your way as soon as we can.
As well as house clearances in Kilmacolm we can also offer you other services including a deep clean of the property or valuation services. Some people do ask us for a quote for cleaning as it saves them from either having to clean the property themselves after the clearance or bring in another company to do it after we have finished. They find it easier to use the one company for the whole job that is needed.
So, if you live in Kilmacolm and are looking for companies who can provide house clearances then why not get in touch with us today: