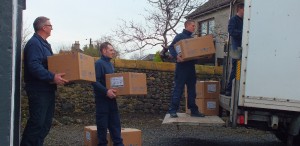 There are a number of reasons why you may want to clear a property, you could be moving out, you could just want a general clear out or perhaps someone in your family may have died and you need the property to be cleared but don't want to do it yourself.
We specialise in house clearances and have been providing this service in Inverclyde for many years now. We understand that many of you have to clear a house at a difficult and stressful time so why not let us make it as hassle-free and easy for you as we possibly can.
We can completely clear a house or remove specific items for example carpets and heavy items. Our service consists of removing all items that are not screwed to the wall or the floor. We are able to include lofts, attics, cellars and conservatories as part of a full clearance however, this is subject to size restrictions. We can clear the house irrespective of location even if access is restricted or parking is unavailable.
Our staff are professional, experienced and friendly individuals. We never use sub-contractors of franchise companies and we're used to dealing with loss and bereavement. We treat all items with the appropriate respect as possessions often hold sentimental value.
As well as being able to offer a house clearance we are able to clean the property for you, this is beneficial if you want to rent it out or sell it after the property has been cleared.
We tailor our services to suit individual requirements and would be more than happy to give you a free quote for the property in Inverclyde that you want to be cleared.
For more information or to arrange for our team to clear a property in Inverclyde, simply get in touch with us. Either give us a call on 0141 255 1901 or fill out our contact form and we'll get back to you.