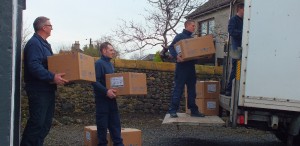 Here at our company we have people in Kirkintilloch and the surrounding areas calling us up looking for a house clearance from a professional company:  HV Property Clearance – who know what they are doing. When they do contact us that is exactly what they are getting, a company who are reliable, hardworking and who have the experience to offer a service that is second to none.
This service that we provide encourages our customers to use us again should they require any of the services that we offer and they also then go on to recommend us to others due to the efficient service and high level of customer service we provide.
We have had customers in Kirkintilloch looking for a house clearance for different reasons such as them moving house, getting work done in their home which requires it to be empty or due to loss/bereavement, whatever the reason is though, we can help. The staff who work at our company who will carry out your house clearance in Kirkintilloch are friendly and helpful and will aim to get the job done as quickly and with as little disruption to you as possible whilst taking great care with the items that they are handling as they are aware that these items may hold sentimental and emotional memories to people.
When we are contacted about house clearances we want to ensure that we offer you the best price that we can for the work that is required and we can undertake full or part house clearances, whatever you need.
When we are out at your property to complete your house clearance in Kirkintilloch there are other services that we can provide which you can also take advantage of such as our cleaning and valuation services. If that is something that you would like a quote for then just let us know.
So, if you are looking for a quote for a house clearance in Kirkintilloch or if you would like to book an appointment with us to come out to do the job required then contact us today either through or website or by giving us a call on 0141 255 1901.