Scotland's waste crime detectives feature in BBC documentary Dirty Business
A new documentary being broadcast delves into the dark world of illegal rubbish dumping in Scotland – a criminal activity that can harm people and the environment and costs the public more than £50 million a year illegal activities include everything from fly-tipping and prohibited burning to large-scale activities with links to serious organised crime, such as illegal landfills and a recent surge in abandonment of trailer-loads of trash.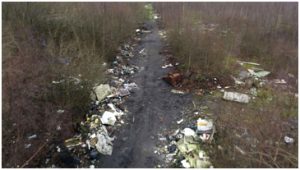 IF YOU WAN TO STOP THIS. WHAT DO I NEED TO DO?
If you are looking for a house clearance company in Glasgow or Motherwell, or anywhere in Scotland.
You need to think carefully about the company you may use.
So many times I see names on van's House Clearance In Glasgow
Call James on 077*********"
STOP AND THINK
WHAT DO YOU HONESTLY THINK THEY WILL DO WITH YOUR ITEMS?
Never book a clearance from a website if they don't have an address listed.
Never book a clearance from a website if they don't have an aa land line phone number.
Never book a clearance and pay by cash on the day.
Always insist on an invoice for payment look for SEPS reg Number on invoice.
Remember you are the one who will get fined for them dumping your Rubbish.