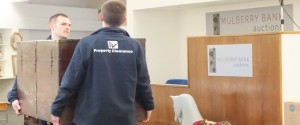 Do you have an office in Paisley that's just begging for a little tender love and clearance (see what we did there?) With 15 years working in commercial office clearances, we know how to do the job with efficiency and care, leaving our customers with total satisfaction.
Moving to a new office can be an exciting prospect but the thought of hauling all of your furniture, fittings and assets can be a sour thought. By trusting HV Property Clearance with the task of your Paisley Office Clearance, you can be confident in the careful rearrangement of your possessions.
Whether you are moving, closing or simply clearing your existing office HV Property Clearance provide a reputable clearance service which our customers come back to again and again. Our aims are straight forward, we want to provide a cost-effective clearance service whilst causing minimal disruption to your routine. Making the process as smooth as possible is a main focus of our clearance team.
We have cleared a wide range of offices with all clients praising our services, just read our testimonials and see for yourself. Whether you're located in Paisley or further afield we can help. We cover the whole of the west of Scotland so don't hesitate to get in touch.
Our full clearance involves removal of all items so long as they are not screwed into the walls or floor. Where carpets or heavy furniture require removal we can do so with prior notice. To reduce the work load for you we try to offer an all-round service and therefore can include an optional cleaning service for your office too should you require it.
Paisley can be busy and therefore bears a stressful environment for on and offloading. At HV Property Clearance we are more than used to office clearances and are prepared to avoid obstructions from the general public. We also know that your possessions can often have high monetary values or involve high volumes of private documentation, this is why we communicate with you and ensure that items are handled with the utmost care. Some companies when providing office clearance services will lack respect and care when moving your possessions, if you've ever watched aircraft workers moving your luggage you'll see that people can become careless but here at HV Property Clearance we care about you and your office and will make sure the clearance occurs with no damages or implications to your belongings.
Not only is our service efficient, but here at HV Property clearance we also ensure your office clearance is affordable and hassle free. Perhaps you only need a number of items removed and so we will tailor costs fairly and in accordance to your needs. A single item uplift can cost as little as £40 with a small office clearance costing only £190. Recycling charges can fluctuate from month to month, so for an accurate quote contacting one of our team is fully advised.
To get in touch to request a quote or to ask any questions you may have, contact our team by phone on 0141 255 1901 or email hvclearancegroup@gmail.com