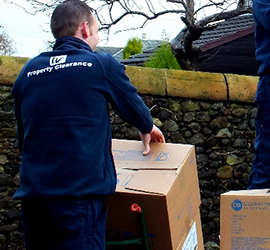 Whether you're looking to clear your home or your business, the amount of junk you'll be left sifting through is staggering. Seriously, you don't realise how many useless items you kept until you go to clear a space. PCs from decades ago and paperwork from even longer takes up valuable room and you'll feel so much better when it's gone. However, clearing does leave you with the issue of what to do with the items you have chosen to discard. HV Property Clearance provides clients with a fantastic item uplift in Paisley so that they can dispose of items responsibly. There is no excuse for fly-tipping or simply dumping items when there is a great team who are happy to provide you with convenient and efficient service.
Clients who are undergoing a commercial clearance may be put off of our item uplift simply due to their unique business requirements. However, it doesn't matter what type of business you run, we've seen it all. You don't have to feel awkward about asking us to help you dispose of heavier items like machinery. We've had experience in uplifting items from all manner of businesses. From restaurants to factories, our teams are experts and will be able to assist you with minimum hassle. In the past clients have used our item uplift in Paisley to dispose of awkward items such as; pavement slabs, medical supplies and pianos. The only things we can't pick up are asbestos or flammable liquids.
You may be wondering what happens to discarded items that we pick up. Well, at HV Property Clearance we don't believe in waste. We are big fans of recycling, and this is something that we try to do with any item that we don't donate to charity. We aim to recycle 92% of the waste that we collect from our clients. HV Property Clearance is a fully SEPA licenced organisation, meaning that we can carry and dispose of waste in an eco-friendly manner. However, if there are any items worth a substantial amount of money, we also offer a free valuation service so that you can put the items to auction.
While we can only offer you a rough estimate without knowing the specifics of the item uplift in Paisley, a single item uplift can cost you as little as £40 (before a recycling charge). A 'single item' is determined by size rather than quantity. Single item uplifts cover items that take up the space of two mid-size washing machines. If you get in contact with one of our friendly team today, they will be able to offer a more accurate price dependent on the needs of your uplift.