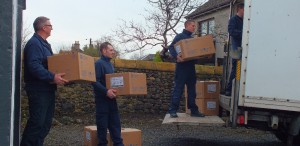 Here at HV Property Clearance we can offer both full or part house clearances to people in Houston and the surrounding areas. We offer a friendly and affordable service and can clear any items including carpets, washing machines, curtains and cookers, whatever you need cleared.
We have been providing our services to people all over for many years now with previous customers also using us again and recommending us to others due to the high standard of work that we carry out. When we are contacted by people in Houston looking for house clearances you can be assured that it will be staff employed by us who will be completing the work, we never use sub-contractors of franchise companies. All of our staff are hard working, experienced professionals who take great care with every job that they do so you can be certain that you will be in good hands if you use us to complete your house clearance. We are used to dealing with possessions which hold sentimental and emotional memories and handle these with great care and respect.
As a company we can offer more than just house clearances to people in Houston, we can also provide item uplifts, a cleaning service and valuation services so whatever your needs are we can help you.
We work in both residential and commercial premises and can include what you need in the service that we provide, there is no job too big or too small. When you contact us we can give you a quote based on the work that is required.
So, if you are looking for a company who can provide house clearances in Houston or the surrounding areas then why not get in touch with us today.