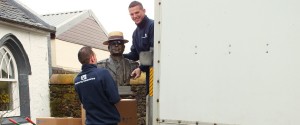 We offer many services to people in Cumbernauld and the surrounding areas but perhaps one of the most common ones we get asked for is house clearances. When people look for a company to provide this service they tell us that they want a company who are professional, who communicate well and keep them informed, who are hard working and most importantly who do the job required well, that is exactly what you get when you come to us.
Every customer is treated with respect and great care is taken when we are out at your property in Cumbernauld providing you with house clearances as we are fully aware that some clearances may be required due to loss/bereavement so therefore we understand that we may well be handling items that hold sentimental/emotional memories for our customers.
If you contact us to provide you with a house clearance in Cumbernauld you can be sure that we will aim to get the job done as quickly as possible for you. All we ask from you is that you make us aware of what is involved with the job that you require such as the items that you need removed, whether it's a full or part clearance and whether you are looking to have any sheds, garages, lofts or cellars cleared out too.
We have worked in many different properties over the years such as high rise flats, bungalows, semi detached homes and even warehouses so there isn't anything that we won't consider. Every job that we undertake is tailored to suit individual requirements and prices for jobs are based on the requirements of our customers.
So, if you are looking for a company who are dedicated to providing house clearances in Cumbernauld then why not try us out.