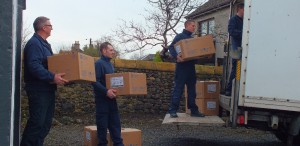 HV Property Clearance have been completing house clearances in Crookston and the surrounding areas for many years so we would now class ourselves as one of Scotland's leading property clearance companies.
Customers who have previously used us have spoken positively about their experience in using our company, this positive experience has encouraged them to use us again and also to recommend us to others due to the high level of customer service that we provide as well as our helpful staff. There is no job too big or too small when it comes to house clearances in Crookston, we can do whatever our customer needs.
We have been providing house clearances for more than 12 years now so you know that you are in good hands if you choose to use our company, we don't let our customers down. We are professional, efficient and strive to do the very best job we can for every customer. We can provide full or part house clearances in Crookston with a full clearance consisting of removing everything that is not screwed to the wall or floor. With our house clearances we can also remove carpets and heavy items should this be a requirement. We are also able to clear out attics, lofts, cellars and conservatories too.
As a company we provide other services as well as house clearances as we are committed to providing our customers with a good all round service. Our other services include an auction service as well as a cleaning service. We feel that in offering more than just house clearances in Crookston that we are saving our customers from having to shop around and arrange for other companies to come in to do different jobs.
So, if you require a house clearance in Crookston then why not contact us today and we can give you a quote so you know what you can expect to pay.