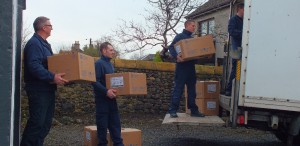 Here at HV Property Clearance we are proud to say that we can provide an excellent house clearance service to people in Clydebank and the surrounding areas. We are a leading house clearance company who take great pride in the work that the staff at our company carry out. Every member of staff who carries out house clearances for people in Clydebank is hardworking and fully committed to providing the best service for our customers. This high quality service coupled with our competitive prices encourages people to not only use us again but also to recommend us to others that they know for both house clearances and the other services that we offer.
We can provide both full and part house clearances in Clydebank, whatever you need. All you have to do to arrange for us to complete the job you need done is give us a call or email us and and tell us exactly what you need removed and we can give you an accurate quote based on the information you give us. We also provide other services that you can take advantage of such as valuation, uplift and cleaning services. We want to make things as straightforward and simple for our customers as we can and we feel that in offering these other services also that we are saving them from having to use different companies for different tasks as we can do it all.
We can clear out garages, attics, lofts, cellars and sheds too and remove everything from carpets and curtains to washing machines, rubbish and cookers. House clearances in Clydebank can be needed for different reasons such as bereavement, due to needing work done in your home which requires it to be clear or due to moving, we have completed them for many different reasons. However, if you do require a house clearance due to bereavement you can be certain that our staff will be respectful and professional ensuring that all items are handled with care as they may hold sentimental and emotional memories for people.
So, if you are looking for a hardworking, professional and reliable company to carry out house clearances for you in Clydebank then you should contact us today.