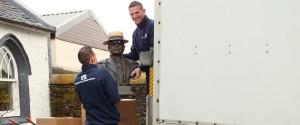 There are times in which it is necessary to completely clear a house. It can be because the property is being sold, or perhaps due to the death of the occupant of the home. Either way, suddenly being given the task of having to have an entire home cleared can be very unpleasant. Houses accumulate many treasured items over time, but also a lot of junk. HV Property Clearances offer efficient house clearances in Balloch to make the process a whole lot easier for you. It doesn't matter how big or how small your property is, at HV Property Clearance we endeavour to complete all projects to an equally high standard.
For those who have never utilised a house clearance service before, basically, it entails you handing over the keys to us and us then gutting out the property for you. Anything you mention wanting to keep, or anything we find of value will be kept and everything else can be disposed of in a responsible manner. At HV Property Clearance, we don't like waste. Everything that you don't want, we endeavour to put to a good use. Our team will either recycle your items or donate them to charity. For the more valuable items that you don't want, we can also help you auction them off with our free valuations service. We are proud to say that we provide an eco-friendly clearance service, as over 92% of the waste we collect is recycled.
With our full house clearance, we will remove anything that is not literally bolted onto the floor. This can include carpets and heavier items if you give us an indication that you are wanting this beforehand. We've never let a customer down. Our team has come across every possible situation and have managed to deal with it efficiently and sensitively. We are aware that having a property cleared can be distressing, especially in the context of a bereavement. The team here empathise and understand that we are handling items that may hold great sentimental value. You can feel assured that we handle such items in a caring professional manner. Your property and the contents within are in good hands.
If you're looking for additional help in moving on as quickly as possible, we also offer a fantastic and thorough cleaning service. It can be completed on the same day as your clearance and will leave the building looking as good as new. Our environmentally friendly cleaning products leave behind no toxicity, so you can have people in as soon as our work is complete. We bring all the products and equipment with us, so you don't have to worry about a thing. For more information on our house clearances in Balloch, please don't hesitate to get in contact with us.