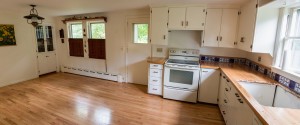 When it comes to moving home or business, there are a lot of things to consider. Most of which you won't even have thought of. If you're wanting to sell a property, it needs to be cleaned before it can be re-purposed. Here at HV Property Clearance, we've made it clear that we offer a fantastic clearance service. However, did you know that we also offer a deep cleaning service to complete the job? Our commercial deep cleaning in Glasgow can leave you with a property that is ready for use. It will be left looking just as good as the day it was constructed. If you want to give your property a fresh start, HV Property Clearance has you covered.
It doesn't matter how small your commercial property is, there is no doubt that it will have accumulated a surprising amount of junk and dirt. It's hard to keep up with a business, never mind ensuring that the entirety of the property is kept spotless. Piles of old paperwork and old and broken machinery can be easily be cleared during our commercial clearance, but that doesn't mean that the property is then spotless. No, what is needed is a proper deep clean. Years of dust doesn't just disappear when you move out. Someone has to get rid of it. We're happy to be that someone.
The team at HV Property Clearance have a reputation for being able to run our projects efficiently. If we guarantee you a date that the clean will be complete, we'll keep to it. If you contact us, we are usually able to start the job within 24 hours. We're that organised. You won't have to stress about a single aspect of the clearance process, we have it all covered. We're able to discard of any unwanted objects safely and responsibly. If we happen to stumble upon any expensive objects, we'll even be able to offer you a free valuation service. The commercial deep cleaning in Glasgow can usually be completed on the same day as your clearance.
Our basic cleaning service includes, but is not limited to;
Doors
Floors
Ceramics (sinks, baths, toilets)
Wood Surfaces
Kitchen Cupboards
Window Frames and Sills
We can provide you with a free quote over the phone if you're interested in knowing costs. We understand that sometimes the basics aren't enough. Commercial deep cleaning in Glasgow will be priced dependant on the condition and size of the property. If you get in contact we will be able to offer you an accurate estimate.