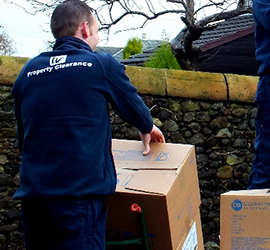 Clearing out a commercial space is no fun task. Keeping costs down whilst getting the job done in a timely manner is imperative. Commercial clearances have connotations of being expensive and stressful times. However, with HV Property Clearances, this doesn't have to be the case. With over 15 years of experience, HV Property Clearances provides efficient and affordable commercial clearances for businesses in Kilmarnock.
In today's competitive business market, it is important to ensure that all operations run quickly and smoothly. Clearing out a commercial space can often cause significant inconvenience for a business. Whether you are closing a site or you are refurbishing, you want to have your space up and running as quickly as possible so that you can continue to run your business.
At HV Property Clearances, we provide a clear timescale of how long the clearance will take, and we stick to it. Customers can rely on us to provide an efficient and extremely reliable service. Our clearance team are fully equipped and aim to start the work as soon as possible. For factory removals and clearances, we can begin our work within just 24 hours of your instruction.
From carpets to machinery, HV Property Clearances can remove almost anything. With many years of experience, HV Property Clearances has achieved a high level of customer satisfaction, which is extremely important to us. By engaging with our services, customers know they can expect quick and efficient results, leaving their commercial space completely cleared and clean for the next stage of their business.
We also understand the importance of doing our bit for the planet. At HV Property Clearances, we place the utmost importance on carrying out responsible waste management and disposal by recycling as many items as we can. If items are still intact and useable, and if you don't want them, then we make sure to donate the items to charity.
HV Property Clearances are based in Glasgow but can deliver commercial clearances to people in Kilmarnock and the surrounding areas.
So if you have a commercial space that needs items removed or completely cleared in Kilmarnock, then you can rely on HV Property Clearances. To find out more about our services, give us a call or contact us via the online contact form on our website
.