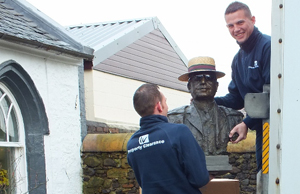 Helensburgh has been a surprisingly busy town ever since the Government bought seaborne nuclear weapons from the US and made it a substantial British military base. The small seaside town attracts a number of tourists and also contains some of the most expensive homes in Scotland. For this reason, businesses are known to either do very well or very poorly, and the shops placed along the seafront and in the town centre are in a constant state of flux. To make the process of closing up or relocating a shop that little bit easier, Glasgow House Clearances offer commercial clearances in Helensburgh to business owners. We'll leave you with a property that is totally spotless.
It doesn't matter how small your business is; you'll have somehow managed to accumulate a staggering amount of junk. You only realise just how big an issue it is when it comes time to move on. Thankfully, the team at HV Property Clearance are happy to tackle any job. It doesn't matter what type of commercial property you have, we have the skills and knowledge required to complete a fantastic job. In the past, we've worked with restaurants, hospitals and warehouses. We've seen it all, so you don't have to worry about asking us to complete more 'unique' jobs.
When it comes to our full commercial clearances in Helensburgh, we'll remove anything that is not literally bolted onto the floor. This includes but is not limited to; paperwork, old PCs, delicate items, heavy machinery and carpeting. As long as you give us ample warning, we're happy to take away anything that is not hazardous to our staff. We offer one of the most comprehensive commercial clearances in the area, but we don't just stop there. We also provide clients with a cleaning service if they so desire.
Getting a commercial clearance in Helensburgh is only half of the job. HV Property Clearance also provides a flexible cleaning service on every clearance. We can usually leave your property looking sparkling on the same day as your full property clearance. Having a building that is both clear and pristine will make the moving process a lot easier, overall. We bring everything we need; both cleaning materials and cleaning appliances. Our non-toxic, eco-friendly cleaning products are effective yet safe to use. Meaning you can have access to your property as soon as possible. For more information, please feel free to get in contact.