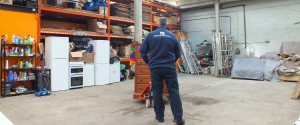 Closing down, refurbishing or relocating a business can be expensive, so keeping the cost as low as possible is key. However, that doesn't mean that you should opt for just anyone offering work for cheap when it comes to having your property cleared. You need a company that offers a high-quality and efficient service as well as a fairly priced one. Luckily for Scottish businesses, HV Property Clearance offer commercial clearances throughout Glasgow that will have your property cleared as soon as possible to a high standard, and all for a great price.
No matter how large or how small your commercial premises are, our team will be able to expertly clear the space and are happy to say they offer the best clearance service in the area. Our full commercial clearances in Glasgow will involve our team removing literally everything that is not stuck to the floor and walls, and disposing of it in an environmentally friendly fashion. From piles of old paperwork, to cabinets, our team is able to tackle any challenge so that you don't have to worry about a thing. We can even clear carpets and heavy machinery, although we would prefer if you warned us prior to our arrival so that we can prepare the necessary equipment.
HV Property Clearance have a long-established reputation for being able to run our projects smoothly and on schedule. We respect the fact that keeping to a strict deadline is crucial so that you have a clear timeline of when you'll be able to sell, refurbish, or move into your property. We want to make the process as easy as possible for you, so we will happily guide you throughout the whole thing, and won't sign off the project as being complete unless we know you are 100% satisfied. If you have recently had a bathroom installed then you may find this bathroom company here of interest.
We can usually start a job as quickly as 24 hours after your instruction. You don't have to worry about providing us with any tools or equipment; we have everything from cutting gear to transport. All you need to do is get in contact with us, instruct on what you want removed, and we can do the rest.
Not only can we clear your property, but we also offer a commercial cleaning service that will leave your space spotless. After all, there is no point getting a professional clearance and being left with a building that is left less than perfectly clear and ready for further use. Cleaning can also be completed the same day as your clearance should you require this additional service, so you don't have to wait to make the next steps with your business. For any expensive items that we may come across we also offer a valuation and auction service for those who are interested.
So if you're wanting efficient, top-quality commercial clearances in Glasgow, get in touch with the team at HV Property Clearance today. If you call us on 0141 255 1901 we can offer you a free quote to get you started.