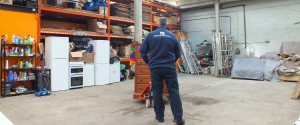 Whether you are relocating or shutting down your business, clearing out the previous building is just one of the many things you'll have to juggle. With all your time being taken up with paperwork or with finding a new location, the task of clearing out can seem impossible to slot in, especially if your business features a lot of heavy machinery. Luckily for business owners, HV Property Clearance offer a professional commercial clearance to customers in Balloch so that they can focus on other important elements of a relocation or closure. We'll take care of everything from removal to cleaning, so you don't have to worry about a thing.
Here at HV Property Clearance, we have over fifteen years worth of experience in the clearance of commercial properties. In the past, we have cleared a number of businesses ranging from but not limited to;
Pubs
Offices
Restaurants
Cafes
Warehouses
Storage Facilities
It doesn't matter how large or how small your business is, all of our clients will be treated to the same fantastic clearance service. We will remove any object that is not bolted onto the floor. From paperwork to heavy machinery and carpets, we have the equipment and expertise to handle it all. We can relocate or dismantle and recycle any office equipment that is left in the building. Once you hand us the keys, we will go in and get to work.
HV Property Clearance are committed to offering an all-round service so that you don't have to worry about a single aspect. Not only can we remove your objects, but we can responsibly dispose of them. We endeavour to recycle or donate as much as possible, and we offer a free valuation service to help you to take more valuable objects to auction. Additionally, we offer a comprehensive commercial property cleaning service so that you are able to relocate or close-up as soon as we are done. This can usually be completed on the same day as your clearance, making the entire process quick and painless.
We bring everything we need with us. We have the necessary transport ready and cutting equipment and tools so that we can complete and thorough job efficiently. For more information on how our team of experts can complete your commercial clearances in Balloch, don't hesitate to get in contact. You can phone us on 0141 255 1901 for a free quote, or you can contact us through our contact form.