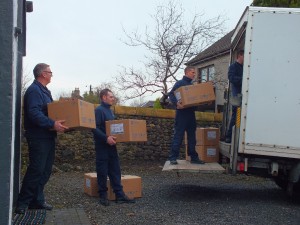 On the 20th of March, we officially begin Spring. So, it's the perfect time to consider starting anew. If you're looking to move your business into a new location, or are needing to close up shop, HV Property Clearances can help you out. We offer full business clearances in Kilmarnock so that you and your organisation can focus on the more important details. Following the clearance, we also offer a full deep cleaning service. This means that your business property will be left spotless, enabling you to move on as soon as possible. You won't have to worry about a single aspect of the process, as we have it all covered.
Historically speaking, Kilmarnock has been centred around heavy manufacturing. Although there has been a slight shift towards more skilled based businesses, many factories still exist in the area. You might think that this hinders our service, but we have the knowledge and skills to be able to work in an industrial area like Kilmarnock. If you give us ample warning, we'll even be able to shift heavy machinery for you. No job is too big, and no job is too small. We'll happily deliver any business a top-quality service. However, our expertise doesn't just limit itself to clearing warehouses. In the past, we've worked with a range of businesses, including;
Storage Facilities
Offices
Pubs
Cafes
Restaurants
We're committed to offering our customers a fantastic service. So, we don't stop with just our business clearance in Kilmarnock. Along with our deep cleaning service, we also sensibly dispose of your items for you. We're dedicated to being an eco-friendly business, so we recycle 92% of the waste that we collect. With items that are still useable, we offer our clients two services: charity donation and valuation. We'll donate unwanted furniture to a charity of your choice so that you know it's going to someone who'll make use of it. For items that are worth considerably more, we will evaluate your items for auction for free. We'll even transport them to auction for you. So, you can put your mind at ease by option for HV to complete your business clearance in Kilmarnock.
HV Property Clearance has been offering clients our fully comprehensive clearance service for years now and has left behind a trail of happy clients. You won't find a business clearance in Kilmarnock to this quality for a more fair price. For more information, please feel free to get in contact.